Land O'Lakes is using an innovative closed-loop-recylcling solution to reuse feed containers. The company is collecting and recycling its Purina cattle feed tubs, which are made with high-density polyethylene (HDPE). It has been challenging and complex task that required developing partnerships with dealers, a lumber manufacturer, and a Massachusetts-based recycler.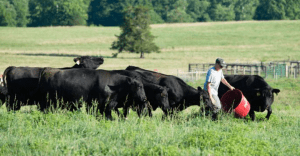 The project began in 2018 when Land O' Lakes partnered with Northstar Recycling in Longmeadow, Massachusetts to recycle woven polypropylene (PP) feed bags. Customers could bring back the empty bags and then Land O' Lakes sent them to Northstar for conversion into pellets for secondary product manufacture. Customer response to this program was extremely positive, so Land O' Lakes approached Northstar with the idea of recycling HDPE food tubs. HDPE is hard to recycle because it often contains additives or is layered with other polymers. Additionally, residue in the feed tubs poses a challenge to recycling in some applications.
Northstar reached out to Bedford Technologies of Worthington, Minnesota, a manufacturer of plastic lumber products. HDPE can be melted down to make plastic lumber products and under this particular recycling application, residue remaining in the tubs is not as great a concern. So far, several pilot studies have been completed to turn the empty feed tubs into park benches and floating chicken coops. The floating chicken coops provide a place of safety for chickens that often drown during heaving flooding. Land O' Lakes plans to continue to work with customers, suppliers, and other partners to develop additional sustainable and innovative solutions to close the loop on product packaging.
For more information see Land O'Lakes Works on Closed-Loop Packaging System and Totally TUB-ular: Purina's circular economy in action.