Many of us are taking advantage of drive-through and pick-up options at local eating establishments as we are adhering to stay-at-home orders. Some of that food will come in compostable bowls, which have replaced the use of Styrofoam. Many of us may have even composted those fiber containers in our backyard composter, or if we work in the solid waste industry, in our composting operations.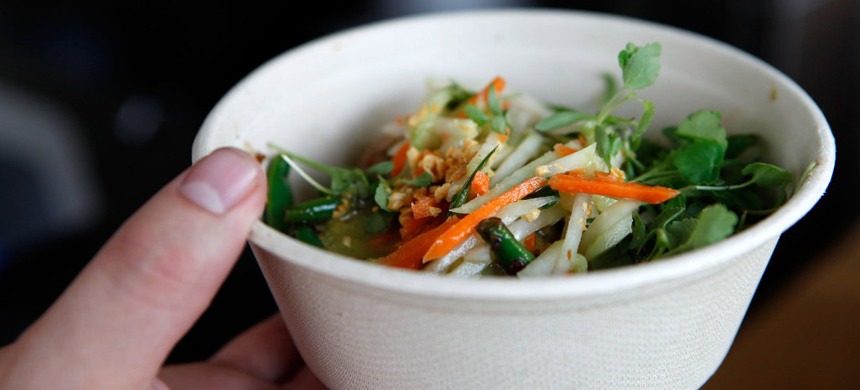 But what has not been widely known until now, is that these bowls, which have been touted as "biodegradable", "socially responsible", and "environmentally friendly" contain per- and polyfluoroalkyl compounds (PFAS), a group of more than 4,000 fluorinated compounds that do not biodegrade naturally in the environment and have been shown to be toxic and carcinogenic. PFAS are added to the fiber bowls to make them resistant to moisture, oil, and grease so they don't fall apart when full of food. These bowls, which have become ubiquitous in the restaurant industry, are not really 100 percent compostable. Instead of degrading quickly, PFAS in the bowls do not breakdown and will be released into the compost. The resulting compost subsequently adds to the chemical load of the soil to which they will be mixed.
But there is good news! Two major restaurant chains, Sweetgreen and Chipotle, have pledged to remove PFAS from their fiber bowls by the end of 2020. Despite the challenges of making a viable PFAS-free bowl, many manufactures are working on it, and one, Footprint, already has created PFAS-free products for Con-Agra and is working with Sweetgreen.
One additional factor pushing the manufacture of PFAS-free fiber bowls is the Biodegradable Products Institute, Inc. (BPI), North America's leading certifier of compostability claims. As of January 1, 2020, BPI no longer certifies as compostable products with more than 100 parts per million (ppm) total fluorine. Products with total fluorine content greater than 100 ppm have likely been intentionally treated with PFAS. An investigation completed by the Counter lab-tested the total fluorine content of bowls from 17 different food service providers. Each of the bowls contained total fluorine at concentrations from between 800 and over 2,000 ppm total fluorine. With a number of restaurants and manufacturers working to address the issue, we should start to see more PFAS-free fiber food containers in 2020 and beyond.
See the related article: The bowls at Chipotle and Sweetgreen are supposed to be compostable. They contain cancer-linked "forever chemicals."