Blackstone Environmental is pleased to announce that Emily Smart was among the named recipients of an EPA L.E.A.F.S. award made to the City of Dubuque on Thursday, April 19, 2018, for their work on the Peoples Natural Gas Superfund Site redevelopment in Dubuque, IA.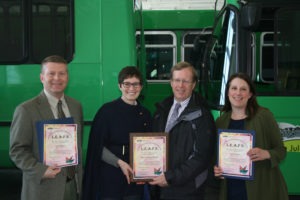 The prestigious L.E.A.F.S. award was established by EPA Region 7 to recognize those who have supported the Superfund Redevelopment Initiative through innovative thinking, sustainable practices, and environmental stewardship. A responsible party, developer, site owner, nonprofit, local government or community member who has demonstrated excellence in working cooperatively with Region 7 to guarantee the redevelopment of a Superfund Site is eligible to receive the L.E.A.F.S award. The City's vision for this Site was executed by a large group of project partners, including multiple federal and state agencies, several responsible parties, consultants, contractors, and a dedicated City Project Management team. The construction of a beautiful and functional bus storage facility and training center on this Superfund Site improved the property, utilized creative thinking in executing sustainable practices to benefit the community, and supports stewardship of the land.
Congratulations on your outstanding
work and achievement!