Service Lines
Project Summary
Blackstone provides on-call engineering services for Magellan Pipeline Company. We help Magellan evaluate and correct underground pipeline exposures and at-risk foundations for cable-suspended overhead pipelines due to erosion at stream crossings. This location in Cooper County, Missouri included one active and one inactive underground liquid petroleum pipelines crossing Smiley Creek. These pipelines had been covered with concrete many years ago at the creek crossing. The concrete beneath the pipelines split from the concrete covering the pipelines causing an emergency situation with the weight of the concrete over the now-unsupported spans.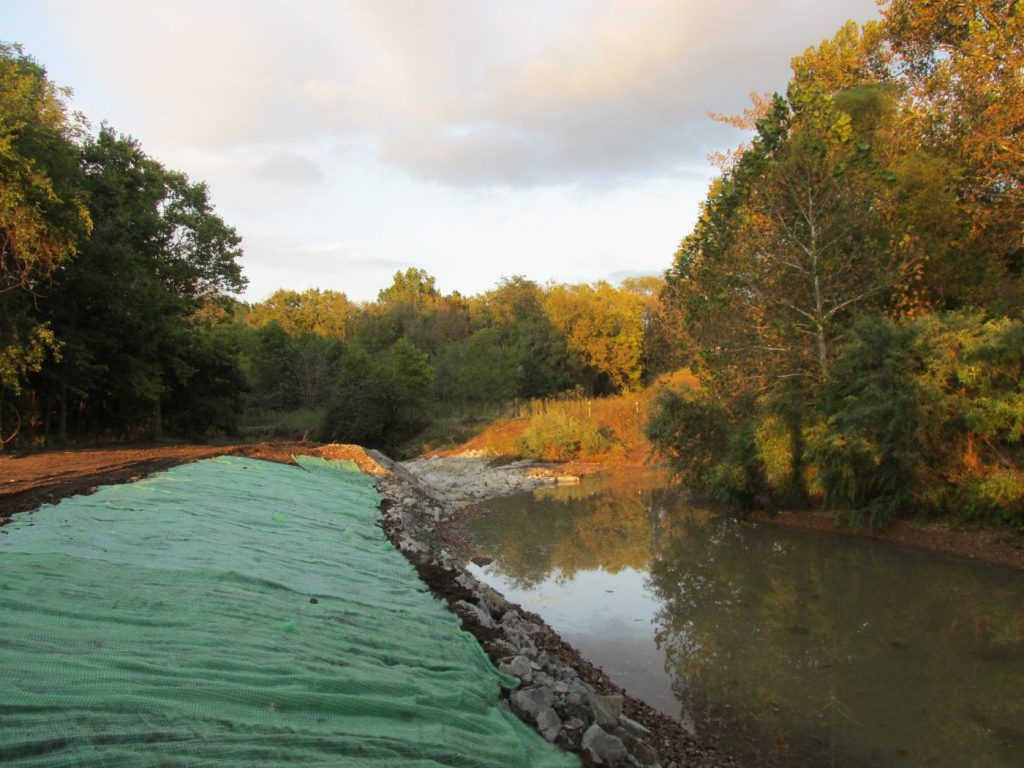 Services Provided
Emergency mobilization and site inspection by contractors, pipeline inspectors and Blackstone engineers
Emergency correspondence/permitting with USACE and MDOC
In-field design of exposure correction and streambank stabilization
Concurrent hyydraulics and hydrology analysis in the office
Conducted onsite contractor direction and construction observations
Results
The stream flow was diverted and the concrete was removed from the channel.  The pipelines were inspected, maintained and protected with rock shield. A 200-feet- long longitudinal peaked stone toe protection (LPSTP) was constructed to protect the bank upstream of the pipeline crossing. A shot-rock riffle was constructed over the pipelines in the channel bottom. The face of the riffle was anchored about four feet deep in the rock-bottom channel by rock-hammering an anchor trench. The channel stabilization has performed well over the past several years. This solution was much less expensive than lowering the lines beneath the channel bottom. The quick response and field engineering allowed for a quick and efficient solution to the emergency situation.